Date And Time
Wed, 21 July 2021
18:00 – 19:30 BST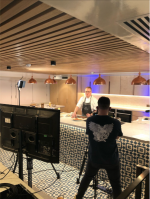 Behind the Scenes at The Cookery School, The Grand Hotel York
You are invited to join us (from behind your computer screens) for our 'Behind the Scenes at The Cookery School, York' event from 6pm on Wednesday 21st July.
This will be a real treat as we go on a special virtual behind the scenes visit and guests will get to enjoy a cookery class with the Head Chef, Andrew. Chocolate Fondant is on the menu so if you fancy being shown how to bake this delicious dessert you are encouraged to have a go yourself as an ingredients list will be sent to you in advance. Alternatively you can just watch for fun, the choice is yours!
The Cookery School at The Grand York opened back in March 2019 - a state-of-the-art cookery school offering a variety of courses designed for everyone from novices to aspiring chefs. The cookery school encourages you to learn a little extra about fine cuisine in a dynamic setting, providing a unique and fun experience for all.
Bookings
For further information email admin@york-professionals.co.uk.
< Back to all events
Date And Time
Wed, 21 July 2021
18:00 – 19:30 BST