Date And Time
Wed, 21 July 2021
18:30 – 20:00 BST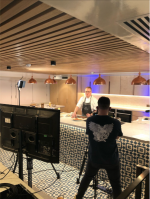 Behind the Scenes at The Cookery School, The Grand York
You are invited to join us at The Cookery School, York from 6pm on Wednesday 21st July for a special 'virtual' behind the scenes visit. This will be a real treat as guests enjoy a virtual cookery class with the Head Chef, Andrew. You will be shown how to make a Chocolate Fondant and an ingredients list will be sent to you beforehand so you can have a go yourself on the night or just watch for fun!
The Cookery School at The Grand York opened back in March 2019 - a state-of-the-art cookery school offering a variety of courses designed for everyone from novices to aspiring chefs. The cookery school encourages you to learn a little extra about fine cuisine in a dynamic setting, providing a unique and fun experience for all.
Bookings
For further information email admin@york-professionals.co.uk.
< Back to all events
Date And Time
Wed, 21 July 2021
18:30 – 20:00 BST