Date And Time
Tues, 7 July 2020
12:00 – 13:30 BST
Location
Zoom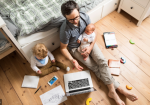 Challenging Times, Challenging Work Environments
The Covid-19 pandemic has created a new era of working from home which throws up a whole host of challenging issues for business. Join us at this virtual event and hear from a panel of professionals who will cover distance selling, GDPR, cybercrime, how to keep your business safe and the emotional challenges of working from home.
Bookings
To book your place email admin@york-professionals.co.uk.
This event is open to York Professionals Members only.
< Back to all events
Date And Time
Tues, 7 July 2020
12:00 – 13:30 BST
Location
Zoom