Date And Time
Wed, 11 November 2020
12:00 – 13:30 BST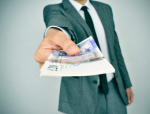 Funding Opportunities for Business (Virtual Event)
Join us on Wednesday 11th November for our 'Funding Opportunities for Business' event as part of York Business Week. Simon Middleton, Make It York will share his insight into funding and signpost to opportunities arising. We'll also hear from York Professionals' members as they present their own business case study, sharing their story of how funding helped their business.
There are currently more than 21,000 people working in the professional services sector and one of the biggest short-term challenges facing businesses currently due to Covid-19 is cash flow. Of course there are different pressures in each sector but cash flow seems to be the common problem that businesses are facing up to right now. Clients are more often trying to delay or defer paying fees because of their own financial situation which is having a negative impact on business. In addition a reduction in funding will impact on securing new work so now more than ever funding opportunities are being sought to tide businesses over for the coming months and safeguard their business.
This event is part of York Business Week. For further information about other events taking place during the week, visit https://www.yorkbusinessweek.co.uk/
Bookings
To book your place email admin@york-professionals.co.uk.
This event is open to York Professionals Members only.
< Back to all events
Date And Time
Wed, 11 November 2020
12:00 – 13:30 BST