Date And Time
Wed, 28 April 2021
12:00 – 13:30 BST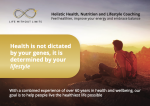 Live Long and Prosper
Join us on Wednesday 28th April for our 'Live Long and Prosper' event delivered by Nicki & Peter Campbell from Life Without Limits. A journey of discovery, exploring the current trends around longevity and how you can become the master of your own health.
Are you ready for the post-lockdown summer? Has the last 12 months helped or hindered your health? Are you happy with your weight and/or eating patterns? What about energy and activity levels? How's your sleep, mood & stress? Did you know that all of these issues are interconnected and can have a significant impact on your longevity & healthspan? The good news is that their interconnectivity means that a sustained positive change in one area can have a beneficial ripple effect elsewhere.
Nicki & Peter will be bringing their combined 60-year clinical NHS experience together with their coaching, nutritional, exercise & lifestyle medicine knowledge to provide you with a framework to get your health on track & help you identify the ONE CHANGE that will improve your general wellbeing right now.
It's time for you to thrive - not just survive!! Don't miss out!!
We hope you will join us!
Bookings
For further information, email admin@york-professionals.co.uk.
< Back to all events
Date And Time
Wed, 28 April 2021
12:00 – 13:30 BST