Date And Time
Tue, 9 June 2020
12:00 – 13:30 BST
Location
Zoom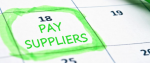 Managing Your Business Through Covid-19
Join us from 12 noon on Tuesday 9th June for one of our new series of virtual Zoom events. 'Managing Your Business Through Covid-19' will welcome a panel of professionals, each sharing their knowledge and advice on cashflow, access to finance/banking and the longer-term legal and HR implications of the current furlough scheme.
Stephen Garbett and David Streather Garbutt + Elliott, Natalie McMillan, McMillan & Associates and Marie Horner, Harrowells will talk about how businesses can manage their way through the current pandemic. Focusing on managing cashflow, routes to finance and the current furlough arrangements - considering the longer-term legal and HR implications for business, this event will provide a useful insight into how companies can successfully manage their way through this changing business landscape.
Bookings
To book your place email admin@york-professionals.co.uk.
This event is open to York Professionals Members only.
< Back to all events
Date And Time
Tue, 9 June 2020
12:00 – 13:30 BST
Location
Zoom