Date And Time
Wed, 25 November 2020
12:00 – 13:30 BST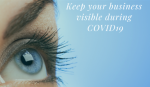 PR and Marketing Tips for Business in the COVID-19 Era
The coronavirus has transformed the way we live, love, work, and do business. The way you conduct your PR and Marketing as a business during this time is important for your reputation. The 'business as usual' message is no longer acceptable as we navigate our way through this unprecedented COVID-19 era.
We're living in a pandemic and everything we did before should be handled differently now, including your PR and marketing efforts. Businesses must act responsibly and compassionately so join us for our 'PR and Marketing Tips for Business in the COVID-19 Era' event as we'll share our PR and marketing tips will help you do just that.
Bookings
To book your place email admin@york-professionals.co.uk.
This event is open to York Professionals Members only.
< Back to all events
Date And Time
Wed, 25 November 2020
12:00 – 13:30 BST