Date And Time
Tues, 29 September 2020
12:00 – 13:30 BST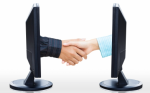 Safeguarding Business. The Changing Culture of Sales
Sales isn't just for sales people. Sales is an integral part of every business - it's about every employee playing a part in the process. Looking at the fundamentals of sales we'll delve into effective sales techniques, the sustainability of sales through emotional resilience and how to stay visible in your market to achieve consistent, effective engagement with your customers. Once the sale is completed we'll cover the legal agreement to ensure sales are safeguarded and everybody is protected.
Join us on Tuesday 29 September to hear more from our panel of experts including Chris Wilson, Adamo Business Consultants, Holly Arden, Arden Matheson Training Solutions and Susie Mortonson, Harrowells.
This will be an interactive event so come armed with your questions, thoughts and insights and let's head into the final quarter of the year with a renewed vigour that everything and anything is possible! Delegates will gain insight into sales, the role of employees in the process of selling, creating company visibility, emotional resilience in sales and legal sales agreements.
Bookings
To book your place email admin@york-professionals.co.uk.
This event is open to York Professionals Members only.
< Back to all events
Date And Time
Tues, 29 September 2020
12:00 – 13:30 BST