Date And Time
Thurs, 19 August 2021
19:00 – 21:00 BST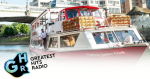 Summer Social on board City Cruises York
Join us in person on Thursday 19th August on board the Captains James Cook in York for our much anticipated Summer Social event. We'll be cruising the River Ouse, enjoying some drinks and a light supper whilst revelling in some much needed face to face networking.
We are delighted to have our event sponsored by Greatest Hits Radio York and North Yorkshire the station bringing you classic songs that stand the test of time and sound as good today as they did the first time you heard them. Keeping you moving with the latest local travel information, keeping you informed with local news bulletins and keeping you company with grown up entertainment from household names like Simon Mayo, Andy Crane and Janice Long. The good times sound like this!
Enjoy a different view of York and take in the open air to the background sounds of Greatest Hits Radio York and North Yorkshire! Guests will be greeted by a welcome drink and light supper (included in the cost). Drinks will then be available from the bar to purchase throughout the course of the evening (cash only).
Our popular Summer Social provides an opportunity to get together (in person!) and network with like-minded business professionals in the city. What better chance to meet some new contacts, enjoy the ambience of the boat and the stunning scenery. We'll update you on York Professionals with Board Directors on hand to meet with you and talk further about our work and the aims of the organisation. 
What better way to celebrate the 20th Anniversary of York Professionals? We hope you will join us!

​Whether Members or Non-Members of York Professionals, all are very welcome to come along to this informal networking opportunity.
Bookings
Book through Eventbrite.
For further information email admin@york-professionals.co.uk.
Note, places for this event are limited. Maximum two tickets per organisation allowed.

Event Cancellation and Refund Policy
Cancellations must be advised in writing / email at least 7 working days prior to the activity date. A refund will not be granted if a registrant fails to attend an event or cancels within 7 working days prior to the activity.
< Back to all events
Date And Time
Thurs, 19 August 2021
19:00 – 21:00 BST