Date And Time
Thurs, 25 June 2020
17:00 – 18:30 BST
Location
Zoom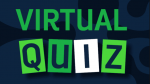 The Big York Professionals Quiz
Pour your favourite drink, get comfy and prepare yourself for 'The Big York Professionals Quiz', taking place at a computer screen near you from 5pm Thursday 25th June.

Dust off your general knowledge, brush up on your local know-how and prepare yourself for this fun, social quiz. We won't be putting teams together so everyone will be flying solo on this one but don't worry we'll only be celebrating the winners so it really doesn't matter whether or not you think you are any good at quizzes. This is just for fun and is the perfect excuse to get together.
With thanks to QuizMaster Mike Leigh Cooper from InkBlot Films.
Bookings
To book your place email admin@york-professionals.co.uk.
This event is open to York Professionals Members only.
< Back to all events
Date And Time
Thurs, 25 June 2020
17:00 – 18:30 BST
Location
Zoom