Date And Time
Thurs, 25 June 2020
17:00 – 18:30 BST
Location
Zoom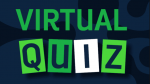 The Big York Professionals Quiz
Introducing 'The Big York Professionals Quiz'. Grab a drink, sit back in front of your computer screen and join us for a virtual catch up at this fun, social quiz.
With thanks to QuizMaster Mike Leigh Cooper from InkBlot Films.
Bookings
To book your place email admin@york-professionals.co.uk.
This event is open to York Professionals Members only.
< Back to all events
Date And Time
Thurs, 25 June 2020
17:00 – 18:30 BST
Location
Zoom