Date And Time
Wed, 16 September 2020
12:00 – 13:30 BST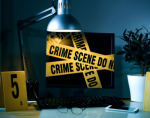 The Hidden Business Challenges of Cybercrime and GDPR
As working from home becomes a gateway to new forms of data theft, companies face increased cyber risk. However, cyber criminals attempting to access corporate data, customer information and intellectual property are not the only threat to businesses - employees can also be a weak link in corporate IT security systems.

Join us at this virtual event and hear from a panel of professionals who will present on the cybercrime and telecom risks businesses are currently facing and what practical steps employees can take to ensure they practice secure home-working. Find out how to ensure that there are no GDPR data breaches due to remote working and address your business's vulnerabilities.
Bookings
To book your place email admin@york-professionals.co.uk.
This event is open to York Professionals Members only.
< Back to all events
Date And Time
Wed, 16 September 2020
12:00 – 13:30 BST