A Night at The Oscars!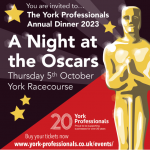 Drum roll please...!
We are delighted to announce that our special early bird ticket sales are now OPEN for the York Professionals Annual Dinner 2023, to be held on Thursday 5th October at York Racecourse.
'A Night at the Oscars' is the theme so this is your chance to dress to impress! Imagine your name on the guest list to join the great and good of Hollywood at this high-profile, red-carpet event. We'll be recreating all the glamour and glitz of the Oscars here in York.
The atmosphere will be set with the amazing music of live band 'What Katy Did Next' who will be performing big band classics to get you up from your tables to dance the night away. Whether dancing to some catchy tunes, trying your luck on the casino tables or enjoying a glass of fizz or two, we can guarantee you a great night with fabulous company.

Book your tickets here >>>
< Back to all news stories
A Night at The Oscars!