All Aboard for 20th Anniversary Membership Drive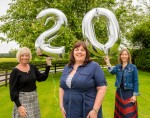 All Aboard for 20th Anniversary Membership Drive
York Professionals is preparing to mark its 20thanniversary with the group's first face-to-face event since March 2020 and a bid to attract 20 new members in 2021. 
The membership organisation launched in 2001, bringing together professional services firms across the city with the aim of demonstrating the strength and depth of local expertise in this key sector, which generates a GVA of £464million.
Two decades on, and it has become an integral part of the York business community, broadening its membership to include the marketing, creative and digital, business support, people, and property sectors alongside financial and legal services firms, and continuing to support and champion the city's professional services businesses.
Last year, the not-for-profit organisation opened its doors to the charity sector, offering free membership to York charities seeking to connect with the local business community. Now, following a successful transition to an online events programme to support members through the pandemic, the group is aiming to continue the upward trend it has seen in membership over recent months.
Current chair, Michelle Mook, is supported by a board of volunteer directors. She says, "We are all extremely proud to see York Professionals celebrate 20 years. Despite the challenges of the last 12 months, it remains a vibrant group that has continued to attract new members.
"After consulting with our members to understand how we could best continue to support them, we moved to an online events programme. This has proved incredibly popular, and our monthly online Pure Breakfast Networking events, which are free of charge for members, regularly attract more than 25 people.
"We are keen to support the local economic recovery by helping more businesses enjoy the benefits of building relationships with like-minded people in the city. With this in mind, we've set ourselves a goal of attracting 20 new members to mark our anniversary."
Michelle says that the organisation is seeing an appetite among members to return to face-to-face networking when it's safe to do so. "We're hoping that as many people as possible - both members and non-members - will join us for our first face-to-face event: our summer social in August," she says. "We'll be taking to the River Ouse on board City Cruises' Captain James Cook for an open air cruise, which will double as a 20thbirthday celebration."
< Back to all news stories
All Aboard for 20th Anniversary Membership Drive