Date And Time
Wed, 27 April 2022
18:00 – 20:30 BST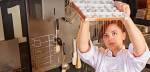 Behind the Scenes at York Chocolate Story
Join us on Wednesday 27th April as we go 'Behind the Scenes at York Chocolate Story' where we will hear the story of how chocolate made history. Located in the heart of York, this entertaining attraction will take guests through the history of York's most famous chocolate-making families and their finest creations. We'll discover chocolate's origins, how to make it, how to taste it like an expert and the sustainable future of chocolate.
Guests will be taken on an exclusive 'after hours' guided tour where they will learn about the history of chocolate in York. The tour will include chocolate making demonstrations carried out by skilled chocolatiers and there will be an opportunity to have a go at making chocolates for yourself.
Guests will be welcomed on arrival with refreshments and the evening will conclude with a light supper of sweet treats.
Bookings
Event Cancellation and Refund Policy
Cancellations must be advised in writing / email at least 7 working days prior to the activity date. A refund will not be granted if a registrant fails to attend an event or cancels within 7 working days prior to the activity.
< Back to all events
Date And Time
Wed, 27 April 2022
18:00 – 20:30 BST