Date And Time
Tues, 7 December 2021
18:00 – 20:30 BST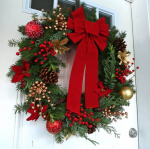 Christmas Wreath Making & Drinks
Join us for a taster class in Christmas Wreath Making at Queen Margaret's School in Escrick. We'll be laying on a coach to transport you from York city centre so get the date in your diary for a taste of Christmas, drinks and nibbles on Tuesday 7th December 2021.
We'll be in for a treat as we experience the majestic Wenlock Library at Queen Margaret's School which will be beautifully dressed for Christmas. Guests will enjoy a taster Christmas Wreath Making session, there will be drinks and supper and plenty of time for networking. This will be a lovely evening and both members and non-members of York Professionals are very welcome to attend.
The coach (which is included in your ticket price) will pick up from Union Terrace Car Park at 5.45pm and will be departing promptly at 6pm for Queen Margaret's School. The coach will then return to drop you off at the same location at 9pm. At the point of booking please advise if you would like to travel to the venue by coach.


Bookings
Event Cancellation and Refund Policy
Cancellations must be advised in writing / email at least 7 working days prior to the activity date. A refund will not be granted if a registrant fails to attend an event or cancels within 7 working days prior to the activity.
< Back to all events
Date And Time
Tues, 7 December 2021
18:00 – 20:30 BST