Date And Time
Tues, 27 September 2022
18:00 – 20:30 BST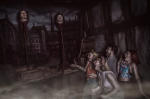 Halloween Preview Evening at York Dungeon
There will be ghoulish goings on at York Dungeon as York Professionals get a sneak preview of their new Halloween offer on Tuesday 27th September.
The evening will start at Plonkers from 6pm where nibbles and a free drink will be served (included in the ticket price). Tours of York Dungeon will commence from 7pm and guests will get the opportunity to experience Halloween at York's award-winning and terrifyingly scary visitor attraction. 
Bring colleagues, friends and family for this exclusive Halloween tour and take a step back as you experience 2000 years of dark and grizzly history!
Dare to join us?
Bookings
Event Cancellation and Refund Policy
Cancellations must be advised in writing / email at least 7 working days prior to the activity date. A refund will not be granted if a registrant fails to attend an event or cancels within 7 working days prior to the activity.
< Back to all events
Date And Time
Tues, 27 September 2022
18:00 – 20:30 BST