Date And Time
Thurs, 18 November 2021
18:00 – 20:30 BST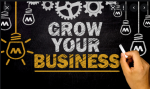 Help to Grow - Taking Your Business to the Next Level
Join us at The Grand Hotel York on Thursday 18th November for our 'Help to Grow - Taking Your Business to the Next Level' event, incorporating the York Professionals Annual General Meeting. Hear from fellow York Professionals who have successfully secured grants to deliver small business support programmes in the city along with an example of a ten year success story for one flourishing York business.
Andrea Morrisonfrom Andrea Morrison Coaching and Philip Bolson from Mr B Hospitality will talk about their Peer to Peer programme which they successfully gained a grant to deliver for small businesses in York. We'll also hear from Michelle Mook, founder and owner of Pro-Development (UK) Ltd who has recently celebrated ten years in business. Grants have been a fundamental part of the growth of the business and Michelle will tell her story about how the company started from a seed of an idea and grew into the success that it is today. Finally we'll hear from Simon Brererton from the City of York Council about current grant and funding opportunities available.
At the event we'll be saying a heartfelt goodbye to Michelle Mook as she officially steps down as Chair of York Professionals during the formalities of the Annual General Meeting, which will be held prior to the main event. The evening will be a wonderful way to wish her well, even though she will be staying on as a Board Director, her warmth and infectious character will certainly be missed but we of course are very much looking forward to new beginnings as we welcome Elliot Rich from The Alternative Board to the helm!
We hope you will join us!
Bookings
Event Cancellation and Refund Policy
Cancellations must be advised in writing / email at least 7 working days prior to the activity date. A refund will not be granted if a registrant fails to attend an event or cancels within 7 working days prior to the activity.
< Back to all events
Date And Time
Thurs, 18 November 2021
18:00 – 20:30 BST