Date And Time
Thurs, 17 February 2022
18:00 – 20:30 BST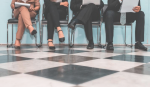 How to become an Employer of Choice
The world of work has been turned on its head over the past two years and retention and recruitment has never been more significant. Join us on Thursday 17th February at York Marriott to hear from a panel of industry experts about how to attract and retain the right talent for your business.
With a strong job market, employees prefer companies with good cultures, competitive pay and advancement opportunities. Giving employees what they need will help you get — and keep — the top talent that you want. We'll consider new practices that can help you attract the best applicants including adopting a hybrid working model and building an employee-focussed culture.
Becoming known as a business where employees want to work takes time and a strategic approach. Join us for this key session around retention and recruitment and make sure your business stays one step ahead of the competition.
Bookings
Event Cancellation and Refund Policy
Cancellations must be advised in writing / email at least 7 working days prior to the activity date. A refund will not be granted if a registrant fails to attend an event or cancels within 7 working days prior to the activity.
< Back to all events
Date And Time
Thurs, 17 February 2022
18:00 – 20:30 BST