Date And Time
Tues, 30th January 2024
18:00 – 20:30 BST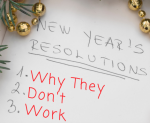 New Year – No 'New Me' Bulls**t!
Why is it that New Year resolutions never last the distance? Why do we do it to ourselves - making a series of unrealistic resolutions only to find that we are struggling to keep them before the month is out? What follows are feelings of failure and self-loathing. Sound familiar? If so, then make sure you join us for our New Year – No 'New Me' Bulls**t! event on Tuesday 30th January 2024 at Elmbank Hotel.  
Leading the session will be Angie Doig-Thorne, York Hypnotherapist. Angie works with stressed, anxious and overweight busy people who don't have the time or energy to make long-term lifestyle changes. To break through the stress, anxiety and weight issues and create a healthier and happier lifestyle. 
Included in the ticket price is tea/coffee on arrival, light buffet supper and glass of wine. During the evening there will be plenty of opportunity for networking. Come along and hear a refreshing take on how we can make small, consistent changes that will last a lifetime.

Bookings
Tickets are priced at £25 for members / £30 for non-members.
Book via Eventbrite here >>>

Event Cancellation and Refund Policy
Cancellations must be advised in writing / email at least 7 working days prior to the activity date. A refund will not be granted if a registrant fails to attend an event or cancels within 7 working days prior to the activity.
< Back to all events
Date And Time
Tues, 30th January 2024
18:00 – 20:30 BST