Date And Time
Wed, 7 February 2024
08:00 – 09:30 BST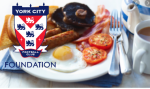 Pure Networking Breakfast at The Principal York
Sponsors, York City Football Club Foundation, invite you to join us for our popular 'Pure Networking Breakfast at The Principal York' event. We'll be meeting with fellow professionals for pure networking over a traditional full English breakfast in The Chapter House at The Principal York.
During the morning we'll hear a brief presentation from our sponsors - York City Football Club Foundation as they launch their 'CEO Sleepout York' initiative. Paula Stainton, the Foundation Manager provides explains further:
"Nobody should have to live on the streets or in housing that is unfit or unsafe. But that's the reality for over 282,000 people in England today. Everybody deserves a secure roof over their heads and access to life's basic essentials. York City Football Club Foundation are bringing the CEO Sleepout to York again in 2024 to raise funds for local charitable organisations fighting to redress these inequalities.
Find out more about the experience of sleeping under the stars alongside compassionate peers in the business community and how you can support or take part in this totally unique networking opportunity."
Book early to avoid disappointment!


Bookings
Book your tickets via Eventbrite here >>>
This event is open to York Professionals Members only.


Event Cancellation and Refund Policy
Cancellations must be advised in writing / email at least 7 working days prior to the activity date. A refund will not be granted if a registrant fails to attend an event or cancels within 7 working days prior to the activity.
< Back to all events
Date And Time
Wed, 7 February 2024
08:00 – 09:30 BST