Date And Time
Thurs, 4 November 2021
08:00 – 09:30 BST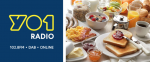 Pure Networking Breakfast (Virtual Event)
Sponsors, YO1 Radio, welcome you to join us for our virtual 'Pure Networking Breakfast' on Thursday 4th November. 
So if you fancy a productive start to your day, pour your favourite coffee, treat yourself to a delicious pastry and join us for this relaxed and informal networking opportunity.
During the session, we'll be hearing from Dale Bartleson, Director of Sales, YO1 Radio who will talk about the importance of the creative sell in attracting clients. There will also be plenty of chance to meet different professionals from a variety of professional services sectors as we split the event with various breakout rooms.
These events are particularly popular so make sure you get the date in your diary and reserve your free place now!
Bookings
For further information, email admin@york-professionals.co.uk.
This event is open to York Professionals Members only.

Event Cancellation and Refund Policy
Cancellations must be advised in writing / email at least 7 working days prior to the activity date. A refund will not be granted if a registrant fails to attend an event or cancels within 7 working days prior to the activity.
< Back to all events
Date And Time
Thurs, 4 November 2021
08:00 – 09:30 BST