Date And Time
Wed, 1 June 2022
08:00 – 09:30 BST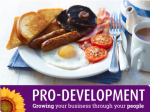 SOLD OUT! - Pure Networking Breakfast at The Principal York
Sponsors, Pro-Development (UK) Ltd warmly welcome you to join us for our 'Pure Networking Breakfast at The Principal York' event on Wednesday 1st June 2022. We'll be meeting with fellow professionals for pure networking over a traditional full English breakfast in The Chapter House at The Principal York.
Michelle Mook and Tracey Flannery from Pro-Development (UK) Ltd will be delivering a brief talk around the subject 'People are the Key to Everything!' - if nothing else, the last two years has highlighted that people are key to the success of our businesses and with the changes in the workplace, what impact has this had on us all?  With so many people struggling with recruitment, Pro-Development will be sharing some tips on how to ensure people feel valued and don't want to leave.  They will also be sharing some ideas for developing people along with the funding available to help SMEs in our region.
We hope you will join us. Be quick and book your place as this event tends to sell out!


Bookings
This event has now sold out.
Event Cancellation and Refund Policy
Cancellations must be advised in writing / email at least 7 working days prior to the activity date. A refund will not be granted if a registrant fails to attend an event or cancels within 7 working days prior to the activity.
< Back to all events
Date And Time
Wed, 1 June 2022
08:00 – 09:30 BST