Date And Time
Tues, 31 January 2023
18:00 – 20:30 BST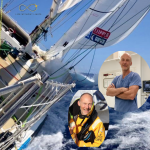 Swapping Scalpels for Sails - Finding Your Inner Adventure and Learning Lessons for Life and Business
Join us on Tuesday 31st January for our 'Swapping Scalpels for Sails - Finding Your Inner Adventure and Learning Lessons for Life and Business' event.
Hear from Dr. Peter Campbell from Life without Limits, for an interactive, inspiring and entertaining evening of discovery. Share in his recent ocean sailing adventure, the high spirits, the sinking doubts, the personal challenges and the unexpected insights - lessons for life and business.
Refreshments will be served on arrival and the evening will finish with networking over a light buffet supper and glass of wine.
Bookings
Event Cancellation and Refund Policy
Cancellations must be advised in writing / email at least 7 working days prior to the activity date. A refund will not be granted if a registrant fails to attend an event or cancels within 7 working days prior to the activity.
< Back to all events
Date And Time
Tues, 31 January 2023
18:00 – 20:30 BST