Date And Time
Thurs, 23 June 2022
18:00 – 20:30 BST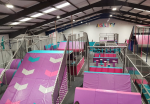 Unleash your inner Ninja at Agility Parks, York
Unleash your inner Ninja and join us for a fun evening at Agility Parks, York on Thursday 23rdJune 2022. Located in Nether Poppleton we'll enjoy exclusive access of the fitness venue for an introduction to York's only state-of-the art Ninja Warrior obstacle courses. Guests will have a chance to 'have a go' on the courses, assisted by a team of qualified coaches and there will be an introduction to Parkour as we take a look at the studio space and learn the basics.
With over 100 linear meters of obstacle course and over 30 obstacles on the courses there is something to challenge all ages and abilities. For guests wanting to get stuck in and have a go, comfortable leisure clothing and trainers are recommended. (Note, all guests will have to complete a disclaimer form).
We'll be starting the evening with refreshments and networking and the evening will conclude with supper and a drink from the bar (included in the ticket price). Everyone is welcome to attend this event and even if you do not wish to have a go on the courses yourself, come along to see for yourself everything Agility Parks has to offer whilst enjoying an evening of hospitality and networking with fellow York professionals.
Bookings
Event Cancellation and Refund Policy
Cancellations must be advised in writing / email at least 7 working days prior to the activity date. A refund will not be granted if a registrant fails to attend an event or cancels within 7 working days prior to the activity.
< Back to all events
Date And Time
Thurs, 23 June 2022
18:00 – 20:30 BST