York business community set to be 'shaken not stirred'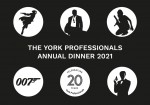 York business community set to be 'shaken not stirred'
Tickets are now on sale for the York Professionals' Casino Royale themed annual dinner. Guests will be invited to channel their inner 007, take to the roulette tables to raise money for St Leonard's Hospice, and hear from award-winning, motivational speaker Steven Robinson, affectionately known as the one arm pilot.
The black tie event will take place on Wednesday 20 October at York Racecourse.
Guest speaker Steven Robinson came from a poor background and dealt with bullying through his educational life. After a tragic motocross accident at the age of 18 that resulted in him losing his right arm, he made an astounding positive change, proving to everyone - and himself - that you are capable of overcoming obstacles and building your own future.
Steven said, "I feel really privileged to be invited to speak at the York Professionals Annual Dinner. My journey in life started out like every other but a life changing event turned everything upside down and shook me to the core. I rebuilt my life as a result and through resilience crafted a varied, interesting and challenging career. And if I can do it, anyone can! I look forward to sharing my story."
Chair of York Professionals, Michelle Mook said, "As we move on from the difficulties of the past 18 months it is wonderful to have a face to face celebration to look forward to. We've all missed real live networking and it will be brilliant to be back in a room with the business community of York.
"We are excited to welcome Steven and delighted to be supporting St Leonard's Hospice, which is our charity of the year. Our Casino Royale theme is set to get everyone shaken not stirred and presents a fantastic opportunity for professionals to network and celebrate with colleagues, contacts and clients. We hope you will join us!"
Michelle says guests can expect an exciting, fun evening, with casino tables complete with fake chips, which are sure to stimulate some healthy competitiveness. Whether trying their luck on the tables or simply enjoying networking with fellow professionals over a vodka martini or two, the evening is set to be one to remember.
Sponsored by Benenden Health, IntelliG+Ence and YO1 Radio, the event is open to York Professionals members and non-members.
Tickets are now on sale >>>
< Back to all news stories
York business community set to be 'shaken not stirred'