York Professionals announces Cash For Kids as their charity of the year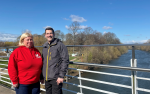 In its 21styear of representing the professional services sector in York, York Professionals will be championing 'Cash For Kids' as its charity of the year for 2022.
Bauer Media's Cash for Kids is a grant-giving charity helping the children that need it. Their mission is to improve the lives of disadvantaged children and young people in our communities who are affected by poverty, illness, neglect or have additional needs. Fundraising efforts will specifically target York and surrounding areas meaning that children in need will get the direct help and support they desperately need.
Elliot Rich, Chair, York Professionals said: "With so many extremely worthy charities to choose from the decision was not an easy one. After careful consideration we are delighted to be supporting Cash For Kids at this year's Annual Dinner where we will be fundraising to raise as much money as we can. Last year we raised almost £4,000 for St Leonard's Hospice so we hope to match that amount if not beat it - we'll be holding a charity tombola, stand up sit down bingo and silent auction to make sure we have every opportunity of raising as much as we can for this extremely worthy cause."
Lisa Sullian, Cash For Kids said: "I am delighted that York Professionals have pledged their support to us this year. I am grateful, not only for the money they will undoubtedly raise on our behalf, but also for the increased profile and awareness amongst the professional services sector in York that they will help us create. I am sure that this will, in turn, help us to develop relationships with key businesses in the city who can work with us and support us in the future."
Back in 2020, at the time the pandemic hit hard, York Professionals opened its doors to the charity sector for the first time, offering free membership to York charities seeking to connect with the local business community. The not for profit organisation is delighted to have a growing charity membership and hopes this upward trajectory will continue.
For those wanting to be a part of the fundraising action for Cash For Kids, Early Bird tickets are now available to purchase for the York Professionals Annual Dinner which will be held on Thursday 13thOctober at York Racecourse. Tickets can be booked here: https://www.york-professionals.co.uk/the-york-professionals-annual-dinner-2022/
< Back to all news stories
York Professionals announces Cash For Kids as their charity of the year