York Professionals Announces IDAS as its Charity of the Year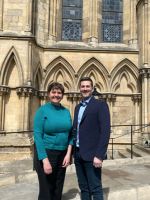 In its 22ndyear of representing the professional services sector in York, York Professionals will be championing IDAS) as its charity of the year for 2023.
IDAS is the largest specialist charity in the North, supporting people affected by domestic abuse or sexual violence across York, North Yorkshire, Barnsley, and Sheffield. Services include a free, confidential helpline, one-to-one and group outreach work, and refuge accommodation.
Elliot Rich, Chair, York Professionals said: "With so many extremely worthy charities to choose from the decision was not an easy one. After careful consideration we are delighted to be supporting IDAS at this year's annual dinner where we will be fundraising to raise as much money as we can. Last year we raised £3,000 for Cash For Kids so we hope to match that amount if not beat it - we'll be holding a charity tombola, stand up sit down bingo and silent auction to make sure we have every opportunity of raising as much as we can for this extremely worthy cause."
Sarah Hill, CEO of IDAS said: "During 2022 we received 18,000 referrals, answered 25,000 helpline calls, supported more than 10,000 people in our local community, and accommodated 250 families in our emergency refuge and dispersed accommodation. By partnering with York Professionals as their chosen charity for 2023 we hope that, as well as raising much-needed funds to support all the people in York who are asking for our help, we can also raise awareness of our vital, life changing – and often life-saving – services, enabling us to reach more victims and survivors."
York Professionals has been offering free membership to local York charities seeking to connect with the local business community for the past few years. The not-for-profit organisation is delighted to have a growing charity membership and hopes this upward trajectory will continue.
For those wanting to be a part of the fundraising action for IDAS, Early Bird tickets are now available to purchase for the York Professionals Annual Dinner 2023 which will be held on Thursday 5thOctober at York Racecourse. Tickets can be booked here: https://bit.ly/3KBmJ1N
< Back to all news stories
York Professionals Announces IDAS as its Charity of the Year