York Professionals member celebrates 35 years in business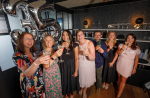 PR and communications agency Partners PR is celebrating its 35thyear in business this month. The team marked the occasion with an event for clients, partners and suppliers at the city's Sora Sky Bar.
Partners is spearheaded by Monica Green and Karen Tinkler, who completed a management buyout in 2006. The company, which was founded in 1988, delivers PR services across the property, construction, professional services, food processing, manufacturing, and engineering industries. The seven-strong team works with clients throughout the UK, and globally through its membership of the International Public Relations Team network.
As well as marking 35 years in business, Partners is celebrating a trio of new account wins and a new addition to the team. Cherelle Jones joins Partners as Senior Account Manager following a string of new client wins including Lindum Packaging, Matchtech Recruitment and Resource Finder UK.
Cherelle brings 14 years of experience to the agency, spanning construction, healthcare, education, and aesthetics. She says: "I am thrilled to be joining The Partners Group team at such an exciting time. The campaigns the team delivers are a true reflection of the drive, dedication, and ambition within the business. With the support of this incredibly talented team, I am excited to continue delivering campaigns that raise the profile of our clients and tell their stories."
Speaking at the event in York, Partners Director Monica Green said: "This is an exciting time for us. Firstly, I'd like to welcome Cherelle to the team. Her skill set is a perfect match for us, and her wealth of experience will help us continue delivering results for our clients in an ever-changing PR landscape. I would also like to welcome our new clients on board. We are looking forward to helping them bolster awareness of their businesses and get their voices heard by the people who matter.
"35 years is quite a milestone, and while PR has evolved a lot over the years, our continued success demonstrates its importance to forward thinking businesses who are investing in solid PR strategies."
< Back to all news stories
York Professionals member celebrates 35 years in business