York Professionals supports the professional services sector in this brave new virtual world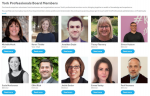 York Professionals supports the professional services sector in this brave new virtual world
Renowned for supporting and championing the professional services community in York since 2001, York Professionals has created a platform of new virtual member benefits to further support businesses in York during these challenging times.
From one-to-one mentoring sessions with the talented Board of Directors, each representing a specific sector and an expert in their own field; sharing news across York Professional's well-followed social media platforms to profiling businesses via their new website and delivering a range of virtual events, the organisation has taken the opportunity to continue to promote and champion business to a whole new virtual level.
Chair Michelle Mook says, "As a Board we recognised the emergent need to adapt our offer and meet the needs of the professional business community. By instigating a range of online measures we have been able to help businesses maintain their profile in the sector, stimulate new business connections and safeguard business for the future. Our new virtual programme of member benefits is free and our events, in particular, have proved extremely popular – the first event was literally booked out within a matter of minutes of it going live!"

During the past year York Professionals opened its membership to the charity sector for the first time, offering a range of valuable benefits free of charge to this worthy sector. Since that time a total of 12 charities are now represented and benefiting from the new virtual offer available. Sector representation ranges from St Leonard's Hospice and The Two Ridings Community Foundation to Kyra Women's Project and MySight York.
York Professionals represents the professional services economy in seven other key sectors including business support, creative and digital, finance, legal, marketing, people and property. Working alongside a series of city-wide partners, York Professionals supports economic growth by helping to position York as a leading centre for international business and enterprise.
< Back to all news stories
York Professionals supports the professional services sector in this brave new virtual world