York Professionals Welcomes Five New Board Directors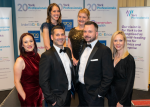 York Professionals Welcomes Five New Board Directors
Membership and networking organisation York Professionals has appointed five new directors to the board.
Torque Law partner Emma Whiting and St Leonard's Hospice director of income generation Dawn Clements join as board directors alongside Arden Matheson director Holly Arden, The Soapy Group director Sophie Metcalfe, and Dale Bartleson, director of sales at York's newly launched radio station, YO1 Radio. 
The new appointments come as York Professionals marks its 20th anniversary and embarks on a new hybrid events programme, following the success of its first face to face events in almost two years. The group's Summer Social in August attracted over 60 people, and more than 140 people gathered at York Racecourse last month for a dinner to mark 20 years of York Professionals.
Vice chair Elliot Rich, pictured at the annual dinner with the new board directors, says, "It's fantastic to welcome so many new faces to the board as we launch our programme of member support into 2022.
"York Professionals has grown to over 120 members in the last 18 months, a testament to the strength of community, engagement, and mutual support among businesses in the city. Strengthening the board of directors across the sectors we serve will help us make sure our support remains focused and relevant to professional services providers in York."
New board director Emma Whiting says, "I wanted to join the York Professionals board to pay back the support and guidance I'd been afforded by the membership when setting up Torque Law, five years ago.  It's a really exciting time to be involved, not least because of the flourishing membership, and I can't wait to get involved in the many exciting initiatives and events that we have coming up in the calendar."
Dawn Clements says, "I am looking forward to being part of a group of like-minded individuals in an organisation that has supported me through the pandemic. I think it's important that charities are included in these forums and seen as a credible profession that can add value and skills."
Holly Arden adds, "I am delighted to join the York Professionals board and support the continued growth of the network. As a member, I have gained so much knowledge, support and connection to other businesses and I am excited to support this for other members."
Dale Bartleson says, "As a director of a York radio station dedicated to helping local business, York Professionals' ethos of bringing local businesses together aligns perfectly with mine and it is a pleasure to join the board."
Sophie Metcalfe adds, "When I joined as a member a couple of years ago, I was really impressed with the positive culture – it definitely helped us build stronger relationships with other like-minded business owners. Now I'm really pleased to be joining the board and playing my part in bringing more York businesses together for the benefit of the city."
Formed in 2001, York Professionals represents and supports the professional services community in key sectors including business support, charity, creative and digital, finance, legal, marketing, people and property.
< Back to all news stories
York Professionals Welcomes Five New Board Directors